why?
Hitomi offers Japanese armor and historical costumes. They are all made to order. The reason is that Hitomi thought that she wanted to match the size and taste of the person wearing it, because armor and costumes are "wear".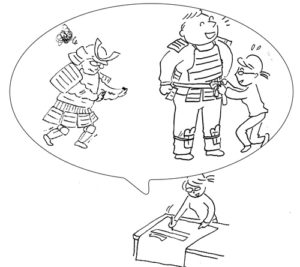 The concept of size was lacking in the case of sale or rental armor. Hitomi who is a woman was painful, heavy, and unpleasant because she did not fit her body when wearing a male-size armor. So Hitomi made a plastic armor that suits her size and put it on. Hitomi was surprised!
She was able to move as usual while wearing armor. As she thought that there may be people who need an armor to fit their body, she made the armor patterns of various sizes.
How about making your own size armor as well? Please change to your design and have fun. And please experience the joy of completion!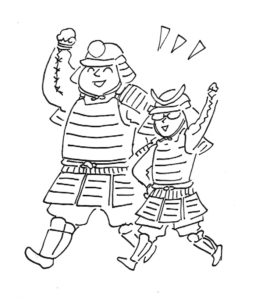 Profile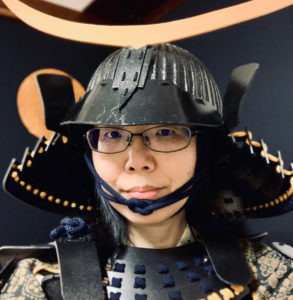 Hitomi Takase was born in HOKKAIDO,JAPAN. Since high school,she has had a deep interest in history,and craft making. After starting her career as a cartoonist and illustrator for various advertisements and publications,she traveled to Florence, Italy to study metal etching. Upon returning to Japan,she branched out into puppet making as well.
You can see or buy her puppets here: http://takasehitomi.edition.jp/index.html
One day, a friend of hers told her about a man who could teach them how to make Japanese armor. Hitomi had always been very interested in the Sengoku period,which was the age of civil wars. This was a particularly special opportunity for her because of her love for design and the history of Sengoku traditional dress.
After perfecting the art of armor making, Hitomi was determined to share this craft with others. Realizing that not everyone could come to Japan to learn this craft in person, she decided to make kits that could be shipped to anyone and made anywhere in the world. She developed her own patterns and designs, and tested them extensively to make sure they were easy to make, comfortable and historically accurate. She uses the plastic because of it's durable, light-weight, quality. She hand selects traditional Japanese kimono fabric for the embellishments in the gloves, shin and thigh guards. 
In 2012, after countless requests, she started to give in person classes as well. Today, in addition to shipping her kits worldwide, she travels Japan giving classes and has often been commissioned to make historical armor for town or city festivals.
She recently traveled to NYC for 1 month to learn English and now lives in Kawasaki City